PUPPIES
01299 861267
PLEASE NOTE NEW E MAIL ADDRESS
FROM NOVEMBER 2011
I Sometimes Have Puppies Available:
AT THIS TIME I HAVE NO PLANS FOR A LITTER IN AT THIS TIME
PLEASE READ INFORMATION
So you are thinking of being
owned by a Golden Retriever?
The Golden Retriever was evolved in Scotland as a Gundog in the 1860's by the 1st. Lord Tweedmouth for the purpose of Retrieving shot game on land and water. Its temperament, developed over the years, has made the Breed Ideal for Guide Dogs for the Blind, Pet Dogs as Therapy, Canine Partners, Dogs for Good, Hearing Dogs for the Deaf and for Customs and Excise.
A reasonably large dog with Males 56 – 61cms (22-24 ins.) and females 51 – 56cms (20 – 22ins). When fully grown males weigh approx 65 – 75lbs and females approx 55 – 65lbs. The Golden retriever is a sturdy, healthy dog with an average lifespan of 11 to 14 years. Their coat adds to the glamour of the breed and they have a thick weatherproof Topcoat and a dense soft undercoat with featherings of longer hair on the back of the legs, neck, chest, tail and tummy, which requires basic grooming daily, also combing behind their ears, and a good groom once a week. Though the Golden retrievers coat is its crowning glory, even with every day grooming, there will still be hairs deposited on the carpet!! The Golden Retriever has Large Feet, and a natural love of water, clean or dirty, so it is not a Breed for the very house proud. There is little difference in temperament between a Male or Female in Golden Retrievers. A female comes into season up to twice a year and must be kept away from males for approx. 4 weeks. Because of their biddable nature they respond to praise and affection and are quick to learn what is acceptable and what is not. Also very intelligent they will soon learn to be naughty if they think they can get away with it. They like human company and need to live as part of the family and do not enjoy solitary existence in a kennel and run. A fast growing large dog, as a puppy the Golden Retriever must not be over-exercised, a good way to judge the amount of exercise needed for a Puppy upto 12/15 months is after vaccinations 1 minute on lead exercise for every week of the puppies life twice a day so at 12 weeks a 12 minute walk twice a day. You can then increase by 1 minute every week. When purchasing a puppy you should see the puppy and the mother, also the Health Certificates for both parents. The Hip Score Certificates are for lifetime and done for Breeding dogs and bitches.  0 – 0 is perfect, the Breed average for two hips on one animal is currently approx 20. The eye certificates are annual for Hereditary Cataracts, and there are DNA tests for PRA. A worming certificate should come with the puppy and a regular worming routine obtained from a vet is necessary, both for the dogs sake and for the environment. All dog waste MUST BE PICKED UP, whether in the garden or in a public place and disposed of hygienically. If you decide you would like a Golden Retriever their loyalty and friendship will take a    lot beating!
THE BEST BREEDERS GIVE AFTER SALES SERVICE, They
will belong to a breed club and this means they abide by a code of ethics. Most of these breeders take part in Shows and/or work their dogs. This means they are involved and exchange knowledge with other Golden Retriever Breeders. You should be provided with a Diet Sheet, worming instructions, a Pedigree, a Kennel Club Registration and transfer form, and an Insurance Cover Note for a short period of time. IT IS IMPORTANT THAT YOU INSURE YOUR DOG. Breeders must now also by Law, Micro Chip their puppies before they go to their new homes, and be their first registered owner.
 If a Puppy is not for you most Golden Retriever Breed Clubs have a rescue Service so perhaps you could give a dog who has fallen on hard times through no fault of his own, a forever home.   
 Below are the Details of any puppies I have:
They will be Kennel Club Registered, Micro
chipped, Fully Wormed, will have 4 weeks insurance, and come with a full puppy pack including food, instructions,  useful tips and
information. They are home reared in the house.Their Kennel club papers will be restricted for breeding and export so they are not sold to be bred from and
I'm sorry I do not export to people I do not
know.
I am a Kennel Club Assured  (Accredited) Breeder.
If you would like to register an interest in the current litter please read all the information on this page, then fill in the puppy enquiry form listed in the menu above.
SCROLL DOWN TO SEE PHOTO'S

BELOW IS A COPY OF MY PURCHASE AGREEMENT WHICH YOU WILL NEED TO AGREE TO AT THE TIME OF SALE AND WE WILL BOTH HAVE SIGNED COPIES.


DIKEADAZE GOLDEN RETRIEVERS SALE CONTRACT

KENNEL CLUB REGISTERED NAME OF DOG

KENNEL CLUB REGISTRATION NUMBER

MICRO CHIP NUMBER:

BREED: Golden Retriever

DATE OF BIRTH

SEX

COLOUR

This is to confirm that the sale of the dog described above ("the
Dog") has taken place between




BREEDER'S NAME:

Miss Angela G. Cooper

BREEDER'S ADDRESS:

BREEDER'S TELEPHONE NUMBER:

01299 861267, E MAIL:

angdaze40@gmail.com

and

PURCHASER'S NAME(S)

PURCHASER'S ADDRESS

PURCHASER'S TELEPHONE NUMBER




The Breeder has taken every care with breeding, rearing and the
welfare of the Dog. The Dog is believed to be in good health and it is sold in
good faith. The Breeder makes no warranty however as to the health or
disposition of the Dog. Every effort has been made to avoid any possible
inherited conditions. Conditions known/thought to be inherited in the breed are:
Hereditary Cataracts, PRA 1 & 2, Some Hip Dysplasia. Relevant, existing
screening schemes have been used for Hip Dysplasia and Eye diseases. Copies of
relevant results have been provided.

The puppy has not been inspected by a practising veterinary
surgeon prior to sale. The purchaser agrees to have the puppy inspected by a
veterinary surgeon within 7 days of contract, for a general check and advice on
inoculations and worming, and agrees to provide the breeder with the details of


the veterinary surgeon and the outcome of the inspection.

The Purchaser(s) shall have ..7.. days to have the Dog examined
by a practising veterinary surgeon and shall have the right during a period not
exceeding ..3.. days after such examination to return the Dog because of a
defect on production of a written report from the said veterinary surgeon, at
which time the

Purchase(s) will be refunded the full purchase price.

Should it become necessary, the Purchaser(s) should be aware that
the return of a Dog can be very difficult, especially emotionally and, having
drawn the attention of the Purchaser(s) to this, the Breeder cannot be held
responsible for any distress caused by the return of the Dog.

Under Kennel Club regulations, there are
two endorsements that may be placed on a dog's record, by the registered
owner of a dog, whilst the dog in question is still in their possession. A
breeder,

therefore, is entitled to place two endorsements on a puppy's
record with the Kennel Club: One restricts registration of any of its future
offspring (progeny) and the other prevents the issue of an export pedigree.


This Dog is subject to both of the Kennel Club endorsements
above. Endorsements can only
be lifted by the person who placed them, and that person would need to send a
written & signed instruction to this effect to the Kennel Club.

I do not lift these endorsements.

The dog is sold as a family pet.


I ask that you allow the dog to be fully grown before considering
Neutering and that the dog is not neutered before the age of 12 months.

The Purchaser(s) agree that if, at any stage in
the Dog's life, the Purchaser(s) need to re-home the Dog,

the Breeder will be the first to be informed
and the Purchaser(s) will, if the Breeder requests, return the Dog to the
Breeder. The Breeder will offer every reasonable assistance to find a new home.




DATE OF SALE AND PURCHASE:

PURCHASE PRICE RECEIVED BY BREEDER: £

a) DECLARATION BY PURCHASER:

I/we confirm that I/we have read and had a full explanation of
all the detail and meaning of this contract prior to purchase and I/we fully
understand its purpose and reason. I/we also confirm that I/we are purchasing
this Dog for myself/ourselves and not as agents for a third party.

SIGNED (Purchaser/s)

b) SIGNATURE OF BREEDER:

I confirm that I am are the breeder of said Dog.

SIGNED (Breeder)
Photo's: 
Below is a photo diary of the puppies development
Smitten's Puppies a few hours old.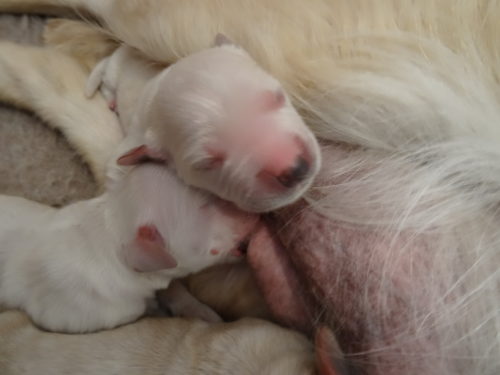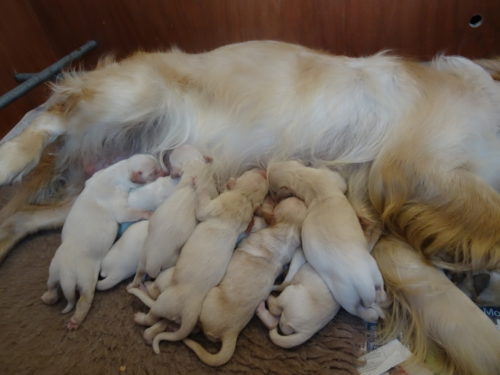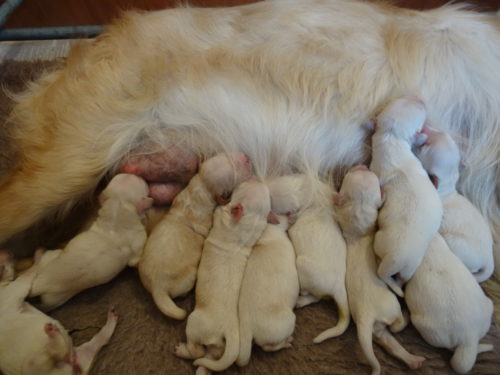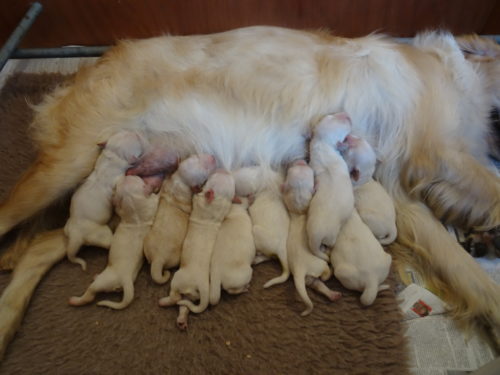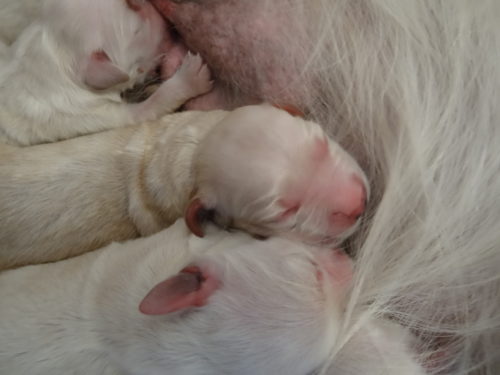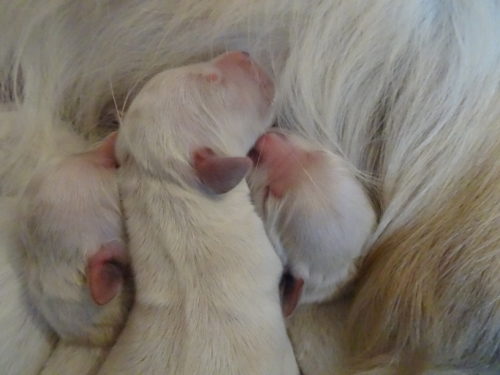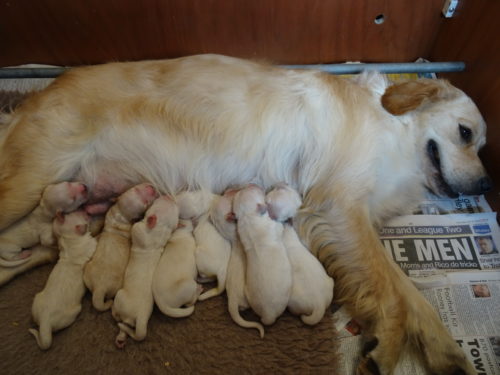 Now one week old, their eyes are not open yet and they cannot hear, they are totally reliant on their Mom. You can see their growth rate by comparing the photo's of them with their mom.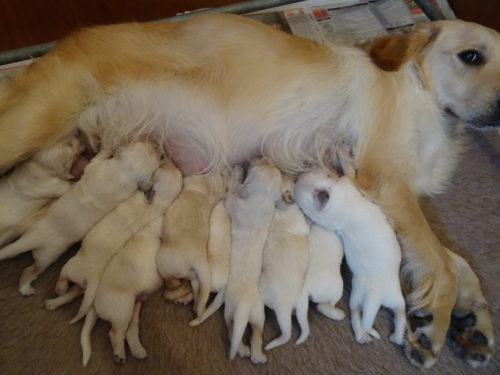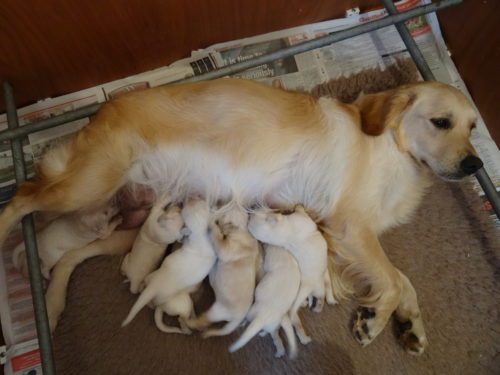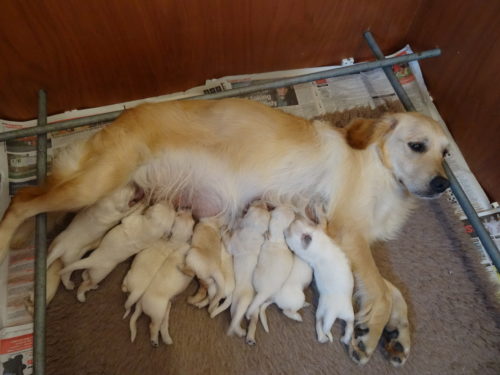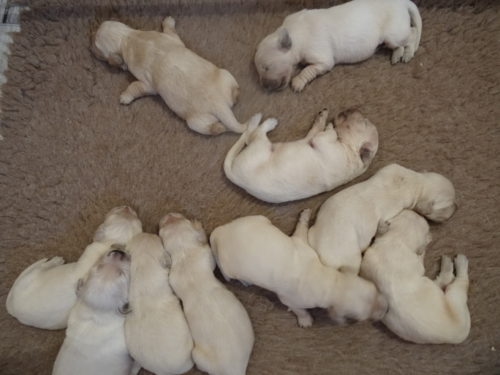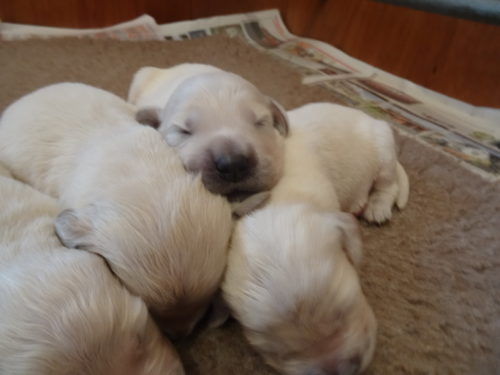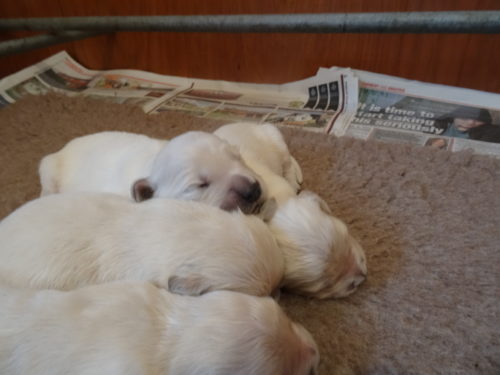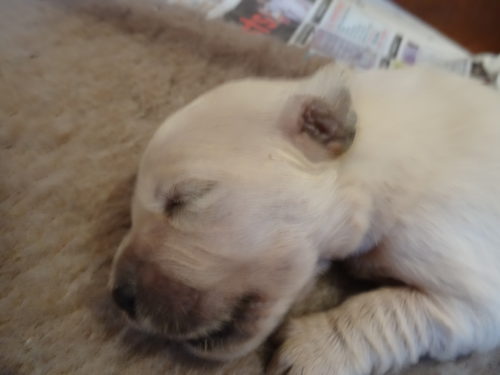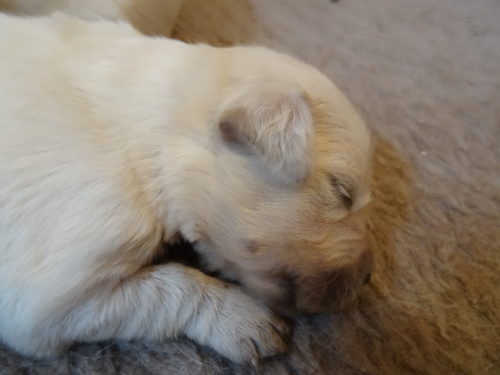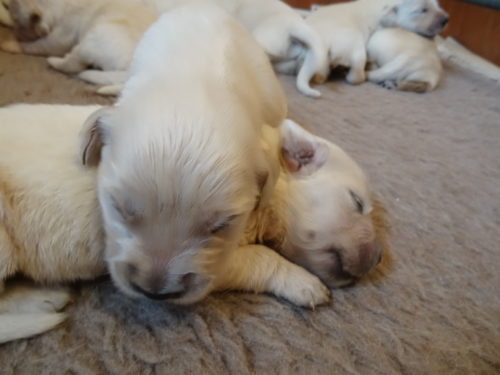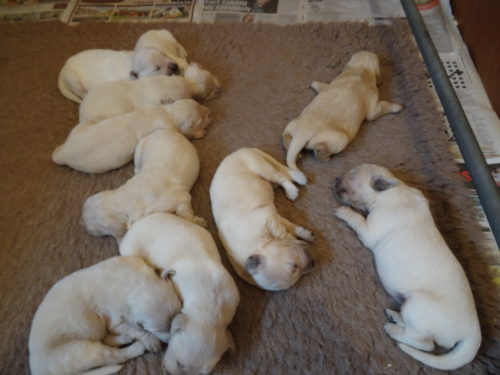 Now 2 weeks old, their eyes have opened, and they can now hear but have no interest in me or the outside world, only their mom.  With this really hot weather they have a fan on them continuously, and have cool bag ice packs under their blanket, which they can choose (and do) to lie by or move away, Mom is also trying to lie on ice pack parts of blanket. I have also put a bottle of frozen water in the corner and they choose to lie by that.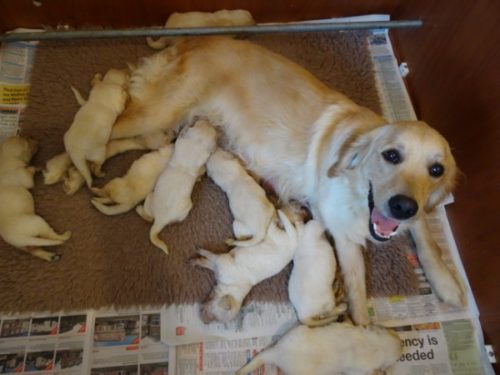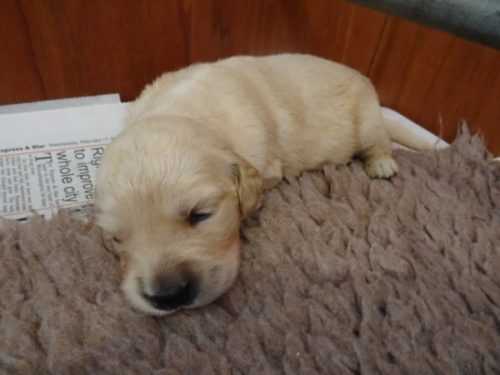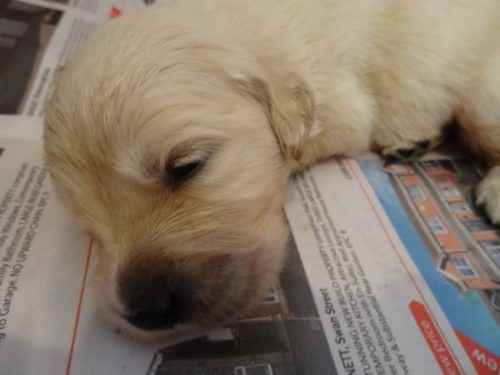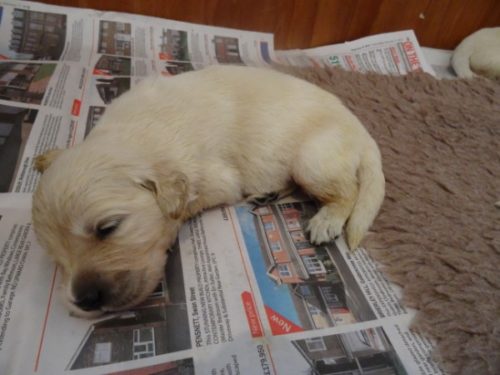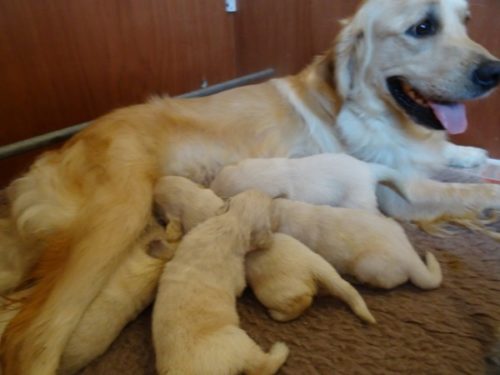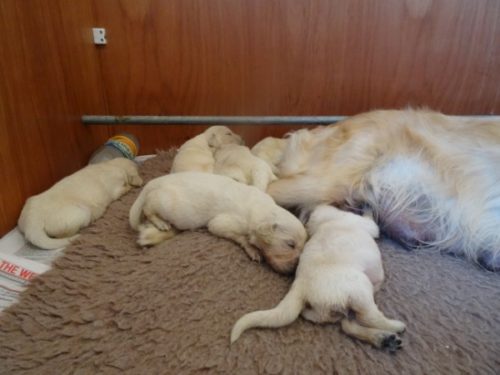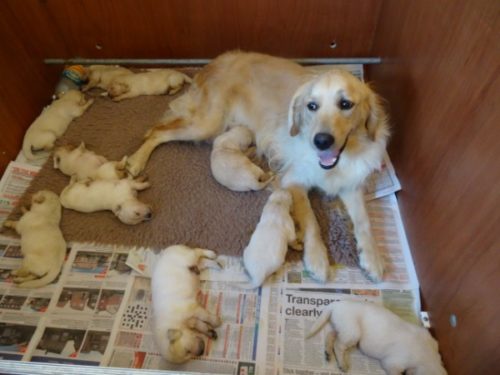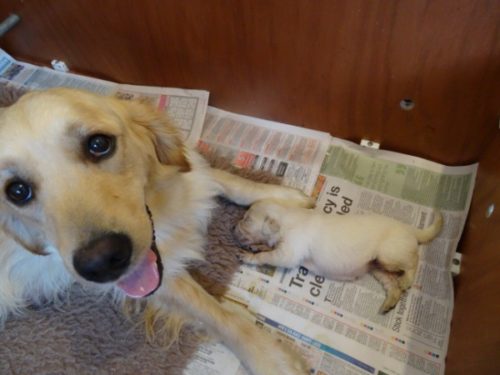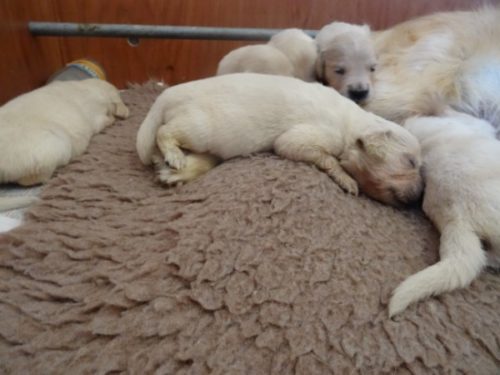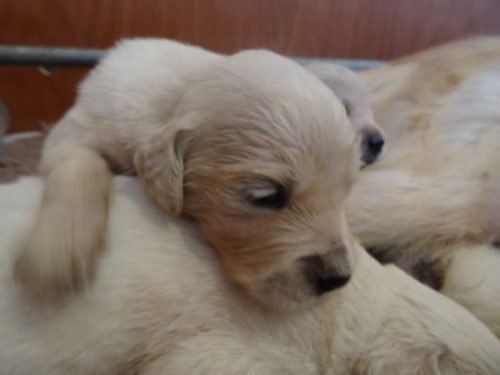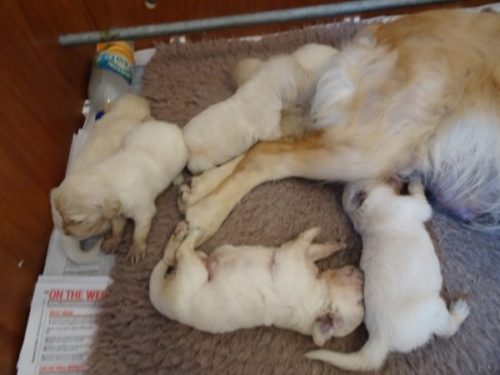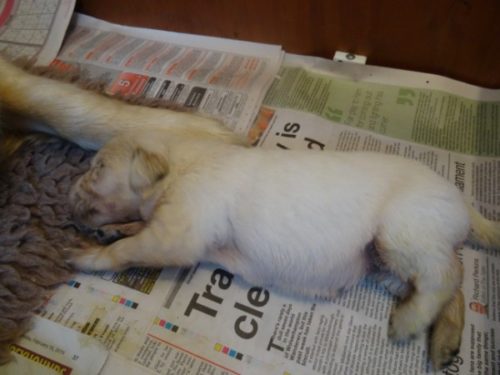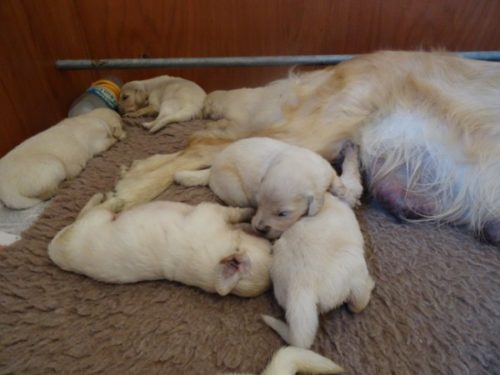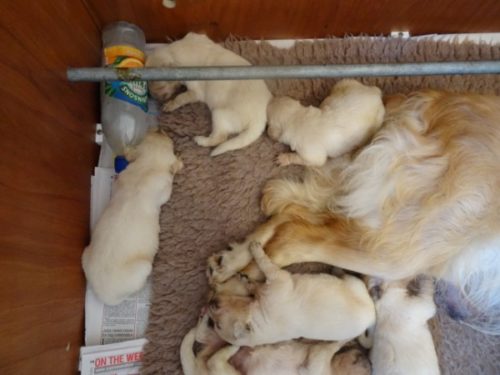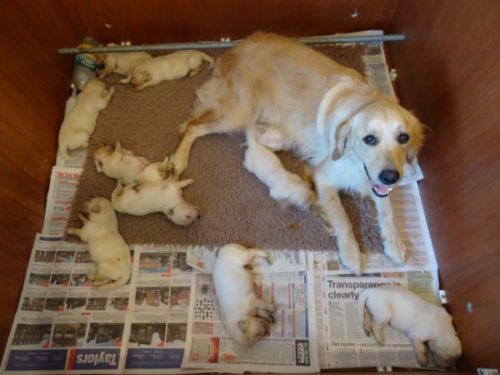 The Puppies are now 3 weeks old. They are starting to interact with each other but still have little interest in me. I have started to feed them a porridge of their puppy food and in the hot weather I had to give them some diluted goats milk  to keep them hydrated. You can see their growth rate by comparing them with previous photo's with their Mom.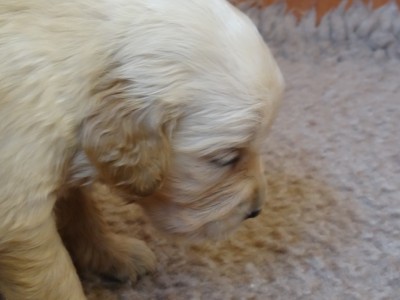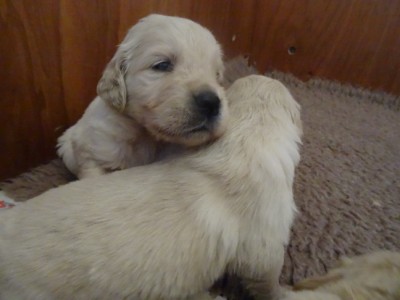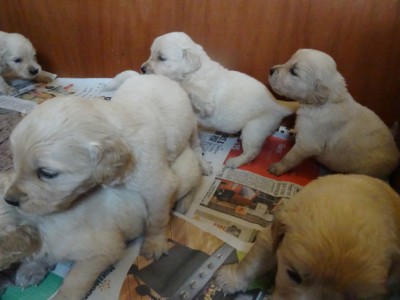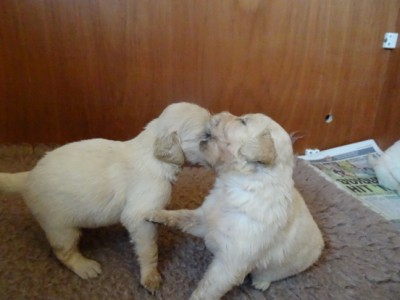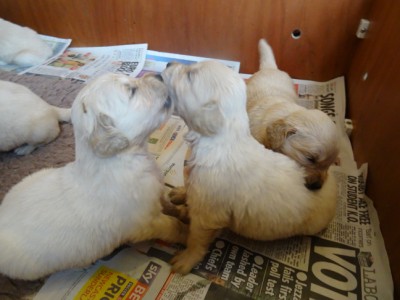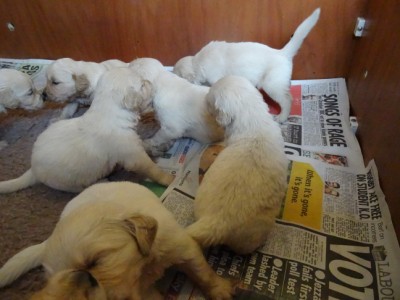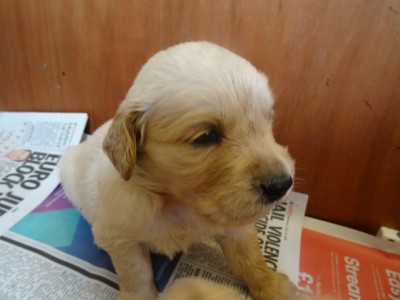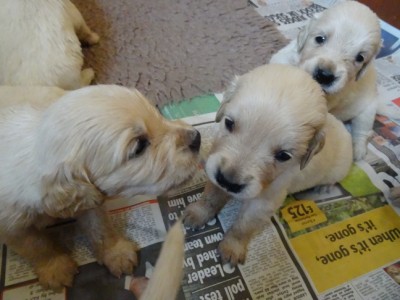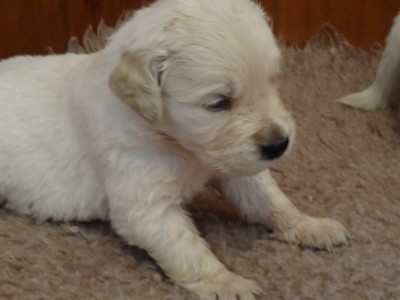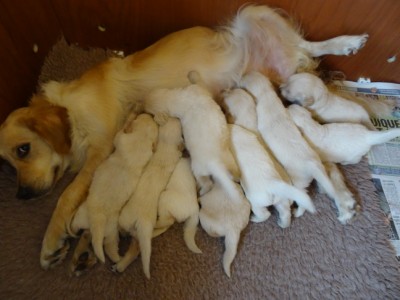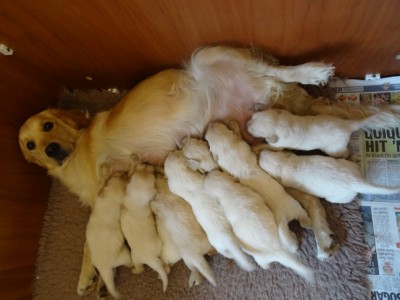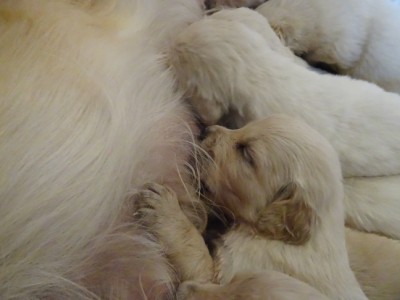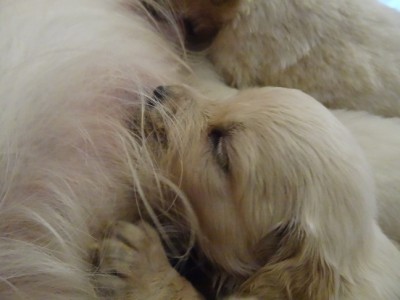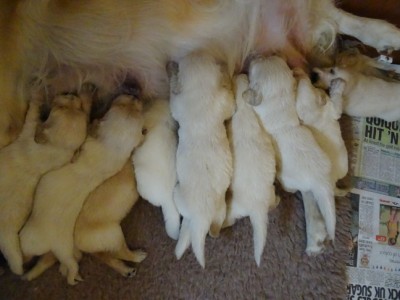 I have uploaded a couple of short video's to show the pups lunch time. 3 weeks and 2 days old.
4 weeks old and now eating well, they are having 4 meals a day. As I am now a food source they have a little more interest in me, and this week have started to meet their potential new owners. Here are a few short videos, photo's are now more difficult as they move as the shot is taken and I end up with photo's of their tails, so most of the photo's will be of them sleeping which is something they still do a lot.
Photo's 4 weeks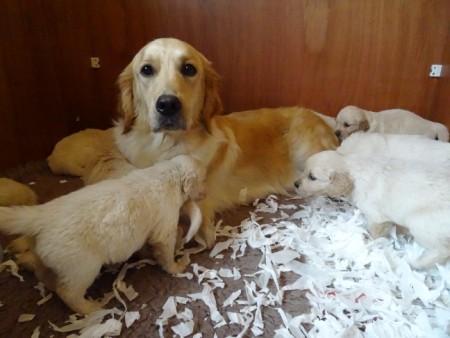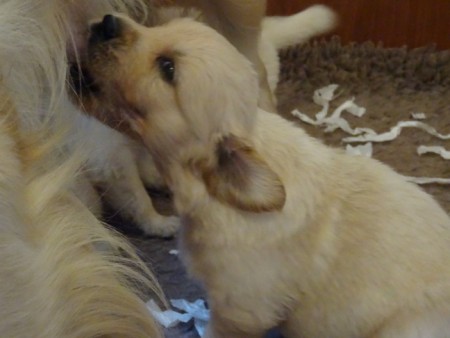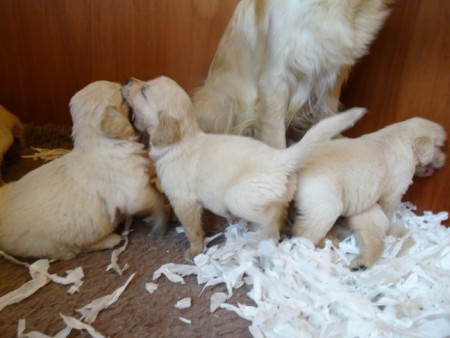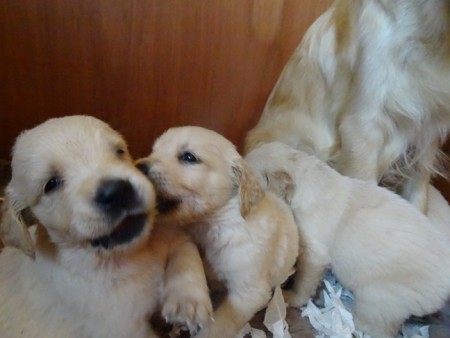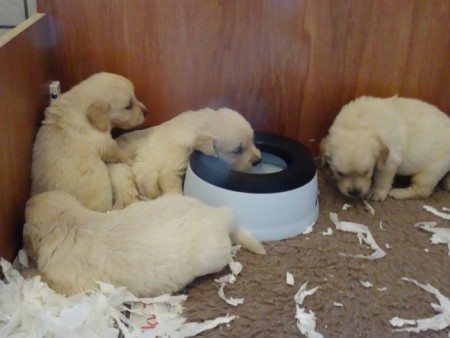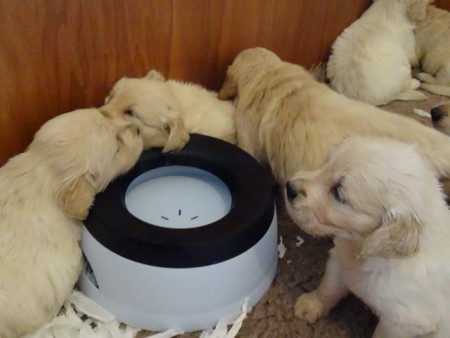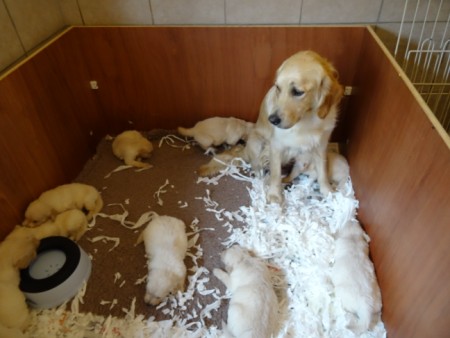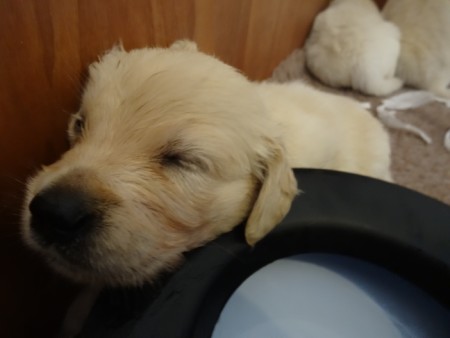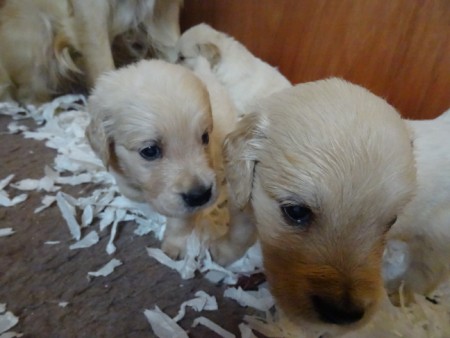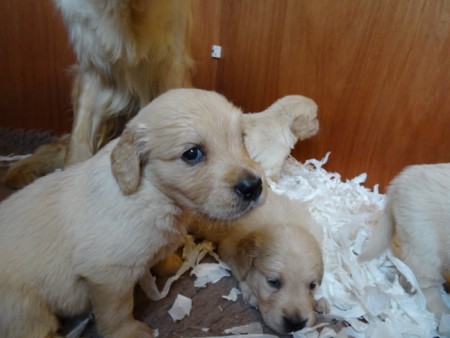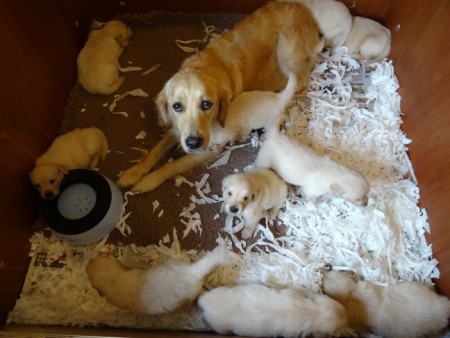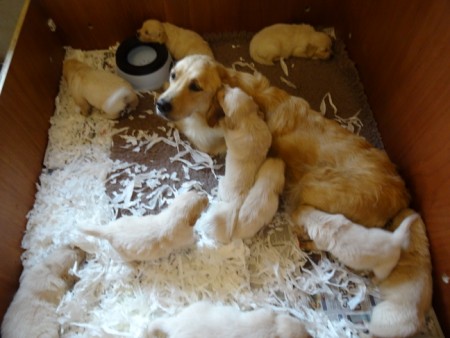 5 weeks old, semi released from their whelping box, spending half their time out. Mom is no longer in with them at night, but is still feeding them 4 times a day. Short video's and photo's: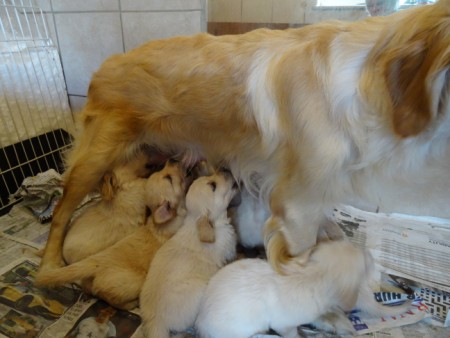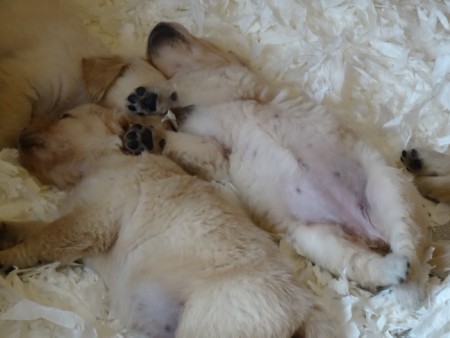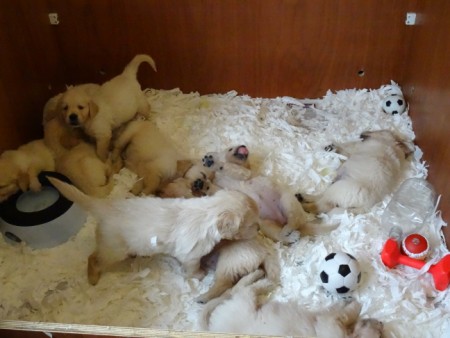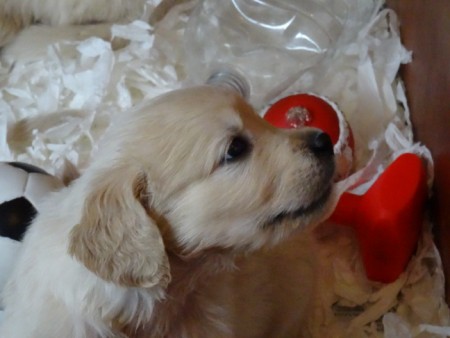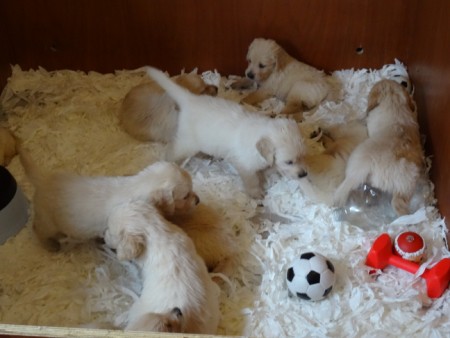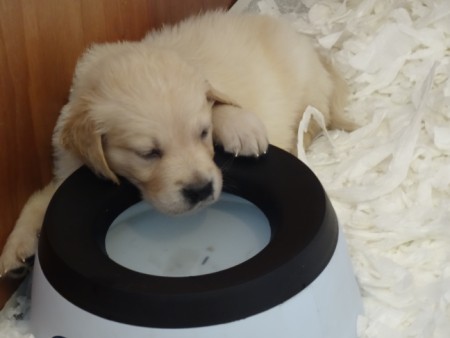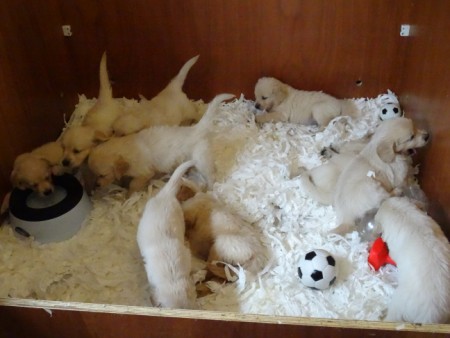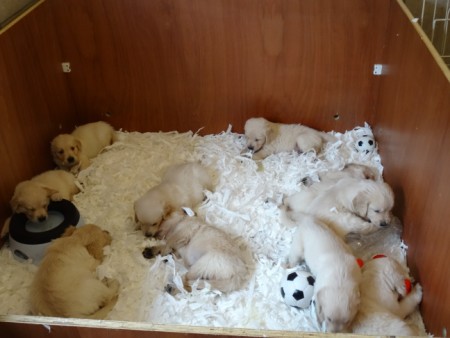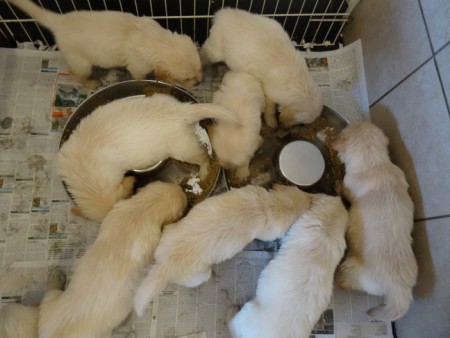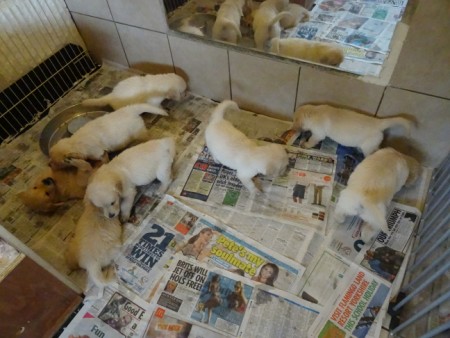 Now 6 weeks old, they eating well and Mom has now more or less finished feeding them. They have been micro chipped and will soon be leaving for their forever homes.