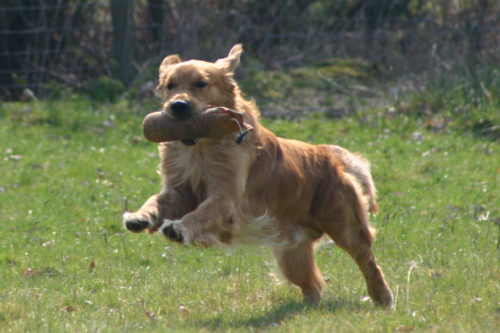 Welcome to DIKEADAZE Golden Retrievers. A small family of
Golden Retrievers on the
Worcestershire, Shropshire, Staffordshire borders. I
show my dogs, but I also work my show bred dogs to the gun, and train and
compete in working tests, winning at all levels. I have made up 2 CHAMPIONS in the show ring one of which I
bred myself. Also I have had 2 TOP PUPPIES in breed in the show ring,
One in 1992 and the other in 2004.I try to breed intelligent agile Golden retrievers that
can work but also win in the show ring. I also breed for temperament so that they make kind loving
family pets.
All the dogs that I breed from are Hip X-Rayed and Eye
Tested.
If you would like more information on Golden
Retrievers a book edited by Maurice Shortman in the Best of Breed series,
published by The Pet Book Publishing Company, available from some Pet Shops
but also on Amazon, and  for which I wrote a chapter in, may be of use.

The Golden Retriever  edited by
Maurice Shortman
I wrote chapter one and it also features
a Piece about myself and my dogs.